edit: shit, these are wider than I expected lol; if you can't view it fully from my journal, right click on the image and 'view image' or something
Screencaps from last night's pchat session with

















GOD EVERYONE AND THEIR MOMS IDK.
(HANSHI WHAT IS YOUR DA ROFL I thought it was just 'hanshi' but I linked to some guy who faves half naked chics)
sorry I don't remember everyone who came in (what with you and your OBSCURE NAMES NGH).
also, sorry for spazzing about dividing the tables and shit too, I'm really OCD when it comes to sharing the canvas when there's like ...20 people.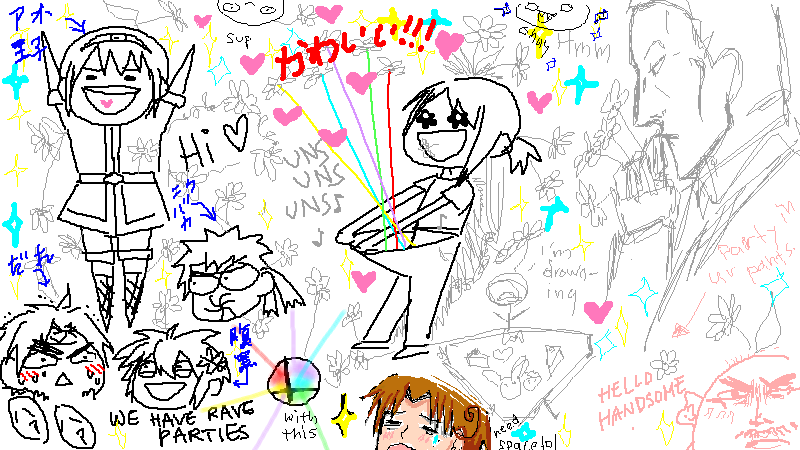 RAVE PARTY AND PURIKURA IN MY PANTS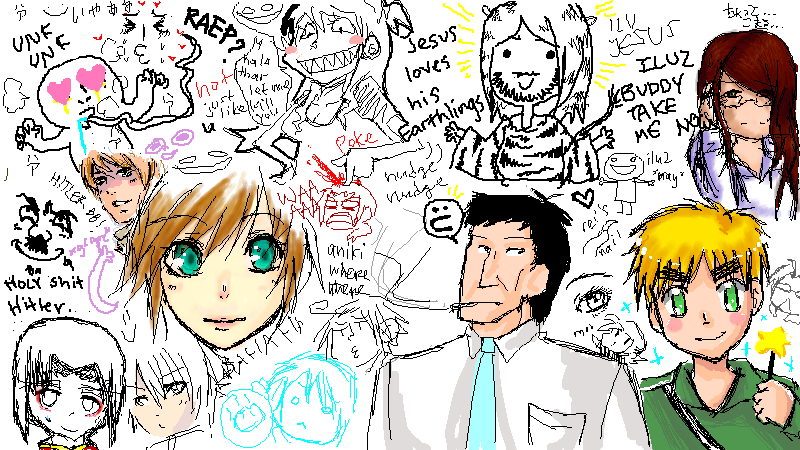 Aha at one point I thought whoever drew that pretty face was

and I was all AHA I CAUGHT YOU MIYU...wait you're not Miyu oh sorry derp derp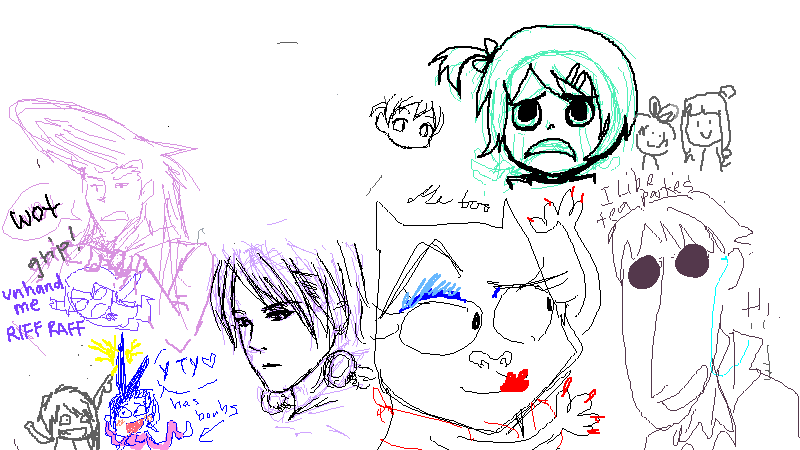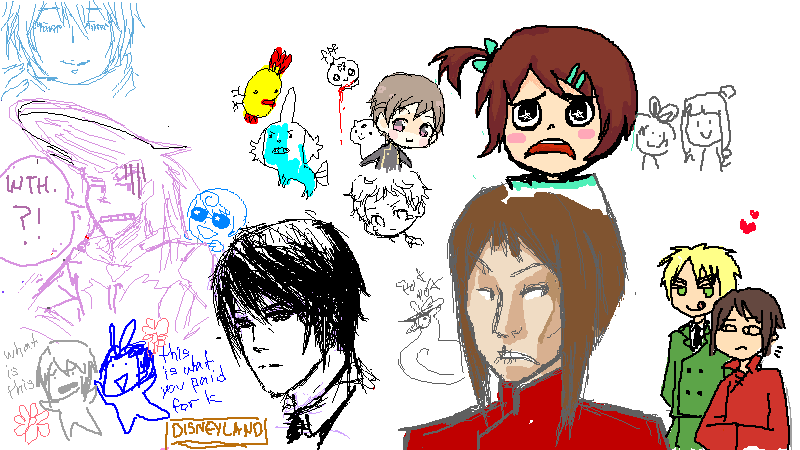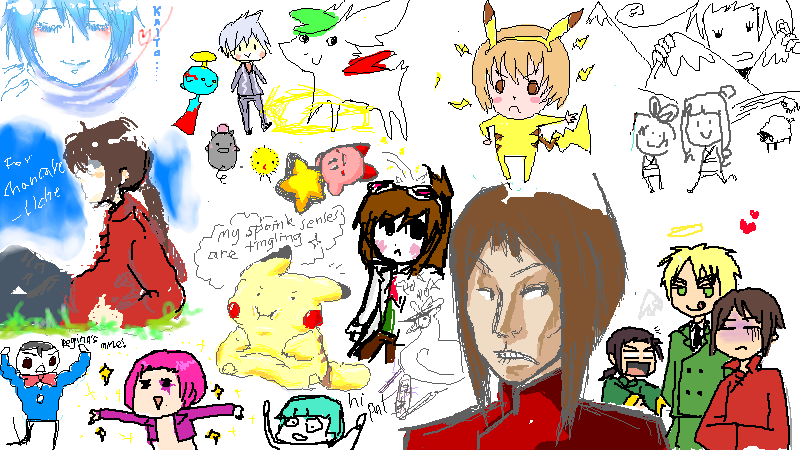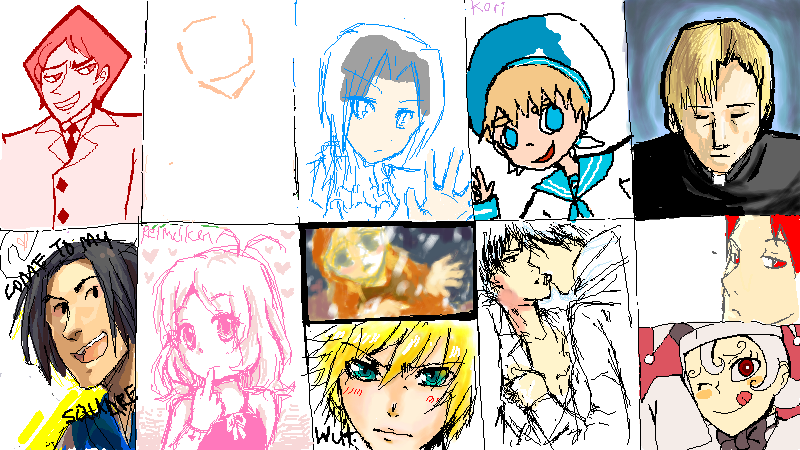 yeah uh next time I should get

in to do the table lines for me ahhahahasdfk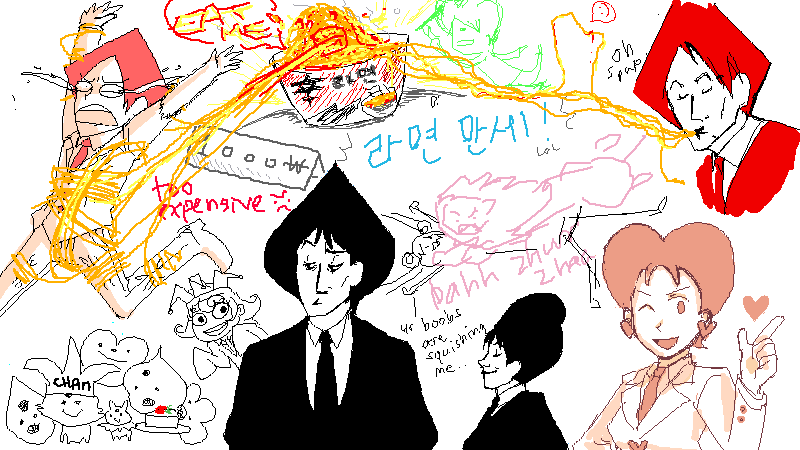 BAAA ZHIIII ZHAARRR
We were watching the mandarin dub of sailormoon.
Somebody said something about a weird chinese superstition that you shouldn't sit on a hot seat, because whoever sat on the seat before will spite you. I'm guessing that's why they drew HK protecting his seat idk IT'S CUTE TEEHEE.
Also, fave part of the convo last night:
(5) chancake > i need to pee like woah
(45) kuro > LOL OKAY
(5) chancake > but i HELD IT BACK FOR YOU GUYS
(324) rii > LOL
(45) kuro > HAHAHA LOLO
(90) kori > AWW
(111) boner > lol I peed just before. Not that you guys need to know that.
(324) rii > I MANAGED TO HOLD IT BACK THERE
(324) rii > THEN I GAVE UP AND WENT "BRB GUYS"
(111) boner > We feel speshul 838
(45) kuro > i need to too >>;;
(45) kuro > brbbb
(90) kori > i had to rush before ><
(5) chancake > ROFL.
(5) chancake > EVERYONE TOILET BREAK
(324) rii > LOL
(45) kuro > HAHA LAWL
(111) boner > *gulps down water*
(90) kori > XDD
(111) boner > I.. I can't yet Dx
(5) chancake > oh god yeahhhh that felt great
(45) kuro > ahahhaa that felt good
(324) rii > fff LOL
(45) kuro > LOL
(111) boner > xD
(5) chancake > ROFLMAO KURO
(5) chancake > HI 5
(90) kori > haha
(45) kuro > HIGH 5
(5) chancake > UNF
(45) kuro > UNF
PEE-SYNCING WITH

HEEHAAAHAA